Experience exceptional islands and beaches of Panama by luxury seaplane. Tailored to your dreams.
WHY DIDN'T I KNOW THAT PANAMA HAS SO MANY SECLUDED ISLANDS AND SPECTACULAR ISOLATED BEACHES TO DISCOVER?
Seaplane travel opens these exception destinations within Panama. Stress free and the ability to discover your choice of the spectacular and secluded.
Getting to experience the many exceptional islands, bays and rivers within Panama has always been difficult and extremely inconvenient. In most cases multiple days of travel.
Today we are all dreaming of heading far from what we know – in search of the undiscovered and unexplored secrets of Panama.
Your "Panama My Way" package allows you to design your day to your preferences. Totally bespoke and tailored to your desired experiences.
Visit any corner of the Panamanian isthmus you desire, or multiple. An isolated and secluded island beach for a gourmet lunch and champagne. A remote indigenous community visited by few. An remote island that is the only location in the world of the endangered Pygmy sloth. Stand Up Paddle Boarding in a remote and exotic river surrounded by seldom disturbed wildlife. Snorkel in a multitude of coral reefs, secluded yet spectacular in the diversity of fish. Surfing or fishing in waters that are remote and previously unreachable.
We pull it all together for you. Once-in-a-lifetime experiences. Unique and authentic.
TWO COASTLINES TO EXPLORE
2,490 km (1,550 mi) of coastline with numerous secluded and sheltered bays that are easily reached by seaplane
1,400 ISLANDS TO EXPLORE
Panama has more than 1,400 islands where some are Caribbean, some Pacific. Each is unique and most are accessible by seaplane. This is more than double the number of all islands in Central America combined.
TWO OCEANS TO EXPLORE IN THE SAME DAY
Panama is the only place in the world you can swim and snorkel in two tropical oceans in less than one hour by seaplane
A UNIQUE DIVERSITY OF INDIGENOUS PEOPLES
There are seven indigenous peoples of Panama. Each unique in their culture. Many remote communities are easily accessible by seaplane.
UNMATCHED BIODIVERSITY
Panama's biodiversity is staggering: the country is home to 220 mammal species, 226 species of reptile, 164 amphibian species and 125 animal species found nowhere else in the world. Panama also boasts 978 avian species, which is the largest number in Central America.
YOUR LUXURY DAY TRIP PACKAGE INCLUDES
CUSTOMIZE YOUR DAY WITH THESE ALTERNATIVES
THE SEAPLANE EXPERIENCE
We start your day by picking you up in our vehicle at your Panama City hotel or residence to take you to the airport for you seaplane flight
We depart from from Albrook Airport in our Cessna Caravan  EX amphibious seaplane. Your schedule. Your agenda.
Enjoy the amazing scenery, whether it's the Panama Canal, lush jungle or the clear ocean waters. Every passenger has a large window.
We land at the islands and beaches you have selected in your custom agenda.
We return in your seaplane mid-afternoon to Panama City and have you delivered to your hotel or residence before dinner
YOUR CUSTOMIZED EXPERIENCE
You are hosted through you day's agenda by a certified bilingual naturalist guide. Enhancing your visit to the amazing destinations of your day, is learning the history of local, hearing the local stories and having someone point out the amazing variety of animals and marine life.
We'll help you customize your locations and activities for the day. Your preferences. Your destinations. Your activities.
Choose from destinations in the Caribbean or the Pacific. Explore hidden bays, isolated beaches, snorkeling in crystal clear waters.
We provide everything. During the day we provide snacks, fresh fruit, local beer, soft drinks and water
At mid-day we'll host you for you an exceptional catered gourmet lunch including local specialties of seafood. A glass of chilled champagne to toast to the most amazing day of your life.
Mid afternoon we'll do our final water takeoff and head home. We'll have  fresh water for  ashower to rinse off before your seaplane departure
STAND UP PADDLEBOARDING
We'll bring with us inflatable SUP's for you if desired.  An amazing means of exploring the channels and mangroves when searching for unique wildlife.
FOCUS ON NATURE
For those that are more interested in an nature and ecosystems we can provide an immersive experience with a specialized naturalist guide or scientist. Learn of the unique ecosystems, marine and wildlife of Panama. We can coordinate your visit with the support of guides or scientists that have the knowledge and local experience of interest to you in order to assure your visit is exceptional.
HISTORY AND CULTURE
Learn from our expert historian guide of the true reality of two hundred years of pirate and buccaneer history. We can visit by seaplane the ports and forts that were locations of staggering violence, slavery, millions in stolen riches and almost inevitable death on the Caribbean coast of Panama. Sir Henry Morgan, Francis Drake, William Parker and the violent and brutal French pirate l'Olonnais all roamed and plundered this small region, and most met their deaths in these waters.
INDIGENOUS CULTURE
The indigenous peoples of Panama have remarkably survived over the centuries, preserving their ways and customs. Most indigenous groups in Panama still live on ancestral lands. These groups continue to hold strongly onto their traditional culture and language. During your day's adventure we can visit an isolated community in the deep Darien jungle, easily reached by seaplane. A unique and authentic experience.
Frequently Asked Questions
What should I bring with me?
We suggest sunscreen, a hat and of course sunglasses. A long sleeve shirt for sun protection. Add a towell and you're all set. We'll provide a ziplock bag for your phone and camera. Bring your charging cable so you can take lots of videos and photos.
What do you provide?
We'll have plenty of water and other refreshments. Snacks and a spectacular lunch.  We'll ask you ahead for your size so that we can provide sanitized and sealed snorkel equipment.  And we'll also provide things like ziplock bags and a charging station for your phone and camera.
What if it rains?
If we get some rain showers typically they are not for too long. At our beach camp we'll have shelter.
What if there is an emergency?
Although you are remote, you are never isolated. We always have a means of satellite communications in case of emergencies.
Are there food options?
Before your excursion we'll contact you for any special dietary requirements or allergies. We can also provide kosher.
I have a lot more questions, how can I reach you to talk?
Send me your contact information HERE and I'll get back to as soon as I am able by whatever means or technology you tell me you'd like to use. We really like doing Zoom calls, as yes there is a real person here. For Spanish I have someone to help me.
Why Fly With Elevair Tours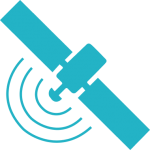 Remote but Never Isolated
As you fly with us you may be remote, but are never isolated. All our aircraft have real-time GPS satellite tracking systems and satellite telephones. Track your seaplane location in our mobile phone app.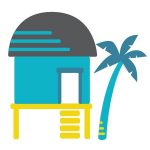 Our tourism activities and your participation are designed to provide a net benefit for the social, economic, natural and cultural environments we visit with you. And for future generations of visitors.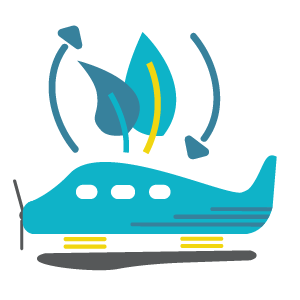 Carbon Neutral Operations
We offset the CO2 emissions from your flights with us with an equal amount of carbon capture projects in Panama communities we visit, empowering them for sustainable forestry and tourism.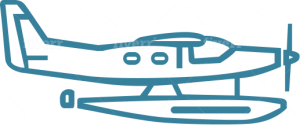 Latest Generation Seaplanes
You'll relax in the comfort of our modern turbo-prop amphibious seaplanes. We get you to your remote destination safely, quickly and comfortably. Executive aircraft interiors with seating for up to eight passengers and ample luggage capacity.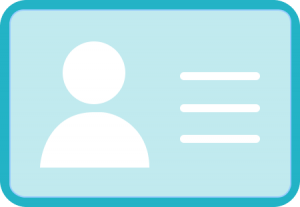 Experienced Seaplane Pilots
Our pilots have flown in some of the most rugged areas of the world and gained valuable experience to assure you have the safest journey possible. Competent, professional and always aware of the comfort and safety of your flight.