Isla Coiba National Marine Park
Walk the soft sand of isolated island beaches. Snorkel the clear waters to see the abundance of marine life.
WHY ISLA COIBA IS THE "MUST VISIT" LOCATION OF PANAMA'S PACIFIC?
Coiba National Park's isolated island beaches and spectacular variety of marine life provides a unique experience in the Pacific of the Americas.
During your day trip excursion you'll visit isolated island beaches and see the spectacular variety of marine life that provides a unique experience that you won't see in any other Central American country.
This world famous marine reserve is rated by National Geograohic as one of the most biodiverse regions on the planet. The park comprises a group of 38 islands and the Pacific Ocean waters surrounding them. Teeming with marine life, the islands have been isolated for decades and is often referred to as The Galapagos of Panama.
A UNESCO World Heritage Site, the park sustains the uninterrupted evolution of marine species including whale and tiger sharks, sperm whales, sea turtles, angel rays and giant schools of fish. And some of the most spectacular beaches in the Pacific.
Your seaplane excursion arrives at your beach base for the day within an hour from Panama City. Typically  a day at Isla Coiba requires at least a two-days of travel with ten hours of driving, an overnight stay in Santa Catalina and four hours of open-water boat transport.
Our total VIP Luxury day trip excursion by seaplane enables you to experience the splendor of this area in the most relaxing way possible. And curated for your unique desires.
A UNIQUE HISTORY
In 1919, Coiba Island was established as an offshore penal colony. It housed up to 3,000 political prisoners under former dictatorships. The last convict was released from the prison in 2005.
A WORLD HERITAGE SITE
In 2005, Coiba National Park was declared a UNESCO World Heritage Site due to its evolutionary significance and the inhabitance of at-risk species on the islands.
AN ABUNDANCE OF WILDLIFE
Coiba National Park is home to 760 species of fish, 33 shark species, and 20 species of whales and dolphins.
AN UNTOUCHED PARADISE
Because it was secluded as a prison, Coiba Island remained virtually untouched and undeveloped, allowing endemic species to evolve on the island, including the Coiba Island howler and Coiba Island agouti.
A UNIQUE MARINE REFUGE
Coiba Island is surrounded by one of the largest coral reefs on Americas' Pacific coast. The reefs act as refuge for species escaping the effects of El Niño. Coiba Island is part of the same underground mountain chain as the Galapagos Islands.
YOUR LUXURY DAY TRIP PACKAGE INCLUDES
CUSTOMIZE YOUR DAY WITH THESE ALTERNATIVES
THE SEAPLANE EXPERIENCE
Pickup in our van of up to 8 passengers plus day-trip baggage at your Panama City hotel or residence at 7:15 am
A pre-departure glass of champagne or juice, then we take off from Albrook Airport in our Cessna Caravan  EX amphibious seaplane at 8:00 am for Isla Coiba
Enjoy the ocean views and watch for whales en-route (in season) as every passenger has a large window
We land at your secluded island and you step off the seaplane directly onto the beach for the start of your day's adventure
We depart by your seaplane mid-afternoon for Panama City and have you delivered to your hotel or residence before dinner
YOUR COIBA ISLANDS EXPERIENCE
You are hosted through the excursion by an bilingual interpretive naturalist guide to maximize your experience. We have pre-paid your entrance fees to the Coiba National Marine Park.
We'll have for you a Beach Camp set up on your private secluded beach with comfortable beach chairs, table, luggage rack, tent for sun / rain protection, water station, towels, sanitized snorkeling equipment
We'll provide private boat transportation to the best snorkeling spots in Coiba National Marine Park. Explore that day's most active snorkeling locations for 3-4 hours. Other choices include exploring other beaches or a short nature hike with your guide.
During your boat tour and snorkeling trip we provide snacks, fresh fruit, local beer, soft drinks and water
At mid day back at the beach camp we host for you an exceptional catered gourmet lunch including local seafood specialties. A glass of chilled champagne to toast a most amazing day with your group.
Lounge or explore after your lunch before we depart. We'll have fresh water for a shower to rinse off before your seaplane departure
SCUBA DIVE
We'll coordinate for a top-rated SCUBA diving company to meet us out at Coiba for a guided SCUBA dive. Famous for the great variety and quantity of fish and coral, the Coiba area provides opportunities for viewing large quantities of pelagic, such tuna, various rays, sailfish, marlin, whales, dolphin and sharks.
PENAL COLONY TOUR
We'll coordinate with authorities for a tour of the notorious Isla Coiba Prison Penal Colony that served as Panama's version of Devil's Island for nearly 100 years. Prisoners who tried to escape were deterred by the sharks and crocodiles that inhabited the island waters. For some prisoners, Coíba was a death sentence. It took grit to survive. If the island's natural conditions didn't kill you, your fellow prisoners might.
HIKING ISLA COIBA
Isla Coiba boasts a half-dozen trails from gentle to rugged.  With over 167 bird species, 1,450 different species of plants and  over 40 species of mammal, this is a special area. Two rare mammals are endemic to the island. In addition the island is home to 17 species of crocodile, turtle and lizard, as well as 15 species of snakes – including the dangerous fer-de-lance, coral snakes and boa constrictors. Our provided naturalist guide is mandatory.
Frequently Asked Questions
What should I bring with me?
We suggest sunscreen, a hat and of course sunglasses. A long sleeve shirt for sun protection. Add a towell and you're all set. We'll provide a ziplock bag for your phone and camera. Bring your charging cable so you can take lots of videos and photos..
What do you provide?
We'll have plenty of water and other refreshments. Snacks and a spectacular lunch.  We'll ask you ahead for your size so that we can provide sanitized and sealed snorkel equipment.  And we'll also provide things like ziplock bags and a charging station for your phone and camera.
What if it rains?
If we get some rain showers typically they are not for too long. At our beach camp we'll have shelter and the boat for exploring and snorkeling has a cover.
What if there is an emergency?
Although you are remote, you are never isolated. We always have a means of satellite communications in case of emergencies.
Are there food options?
Before your excursion we'll contact you for any special dietary requirements or allergies. We can also provide kosher.
I have a lot more questions, how can I reach you to talk?
Send me your contact information HERE and I'll get back to as soon as I am able by whatever means or technology you tell me youlike to use. I even still have ICQ. We really like doing Zoom calls, as yes there is a real person here. For Spanish I have someone to help me.
Why Fly With Elevair Tours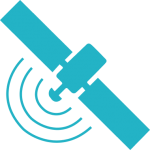 Remote but Never Isolated
As you fly with us you may be remote, but are never isolated. All our aircraft have real-time GPS satellite tracking systems and satellite telephones. Track your seaplane location in our mobile phone app.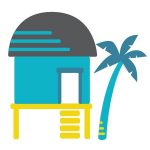 Our tourism activities and your participation are designed to provide a net benefit for the social, economic, natural and cultural environments we visit with you. And for future generations of visitors.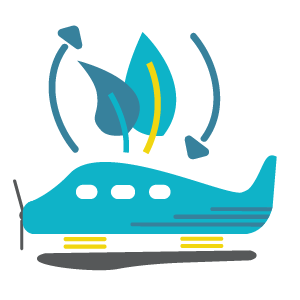 Carbon Neutral Operations
We offset the CO2 emissions from your flights with us with an equal amount of carbon capture projects in Panama communities we visit, empowering them for sustainable forestry and tourism.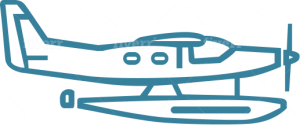 Latest Generation Seaplanes
You'll relax in the comfort of our modern turbo-prop amphibious seaplanes. We get you to your remote destination safely, quickly and comfortably. Executive aircraft interiors with seating for up to eight passengers and ample luggage capacity.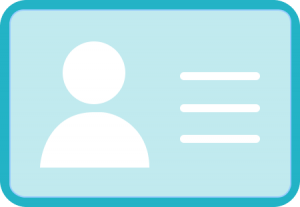 Experienced Seaplane Pilots
Our pilots have flown in some of the most rugged areas of the world and gained valuable experience to assure you have the safest journey possible. Competent, professional and always aware of the comfort and safety of your flight.