The magic of hidden beaches, crystal clear waters and unique wildlife.
AVAILABLE SEPTEMBER 2021
WHY THE REMOTE ISLAND OF ESCUDO DE VERAGUAS IS SUCH A PARADISE
Hidden beaches, crystal clear waters, white sands, and unique wildlife make this remote destination an earthly paradise.
One of the most amazing island locations in Central America. A lonely remote Caribbean island bravely facing the sea. Waiting to welcome you to explore its many wonders.
The interconnected waterways surrounding the island provide an unbelievable snorkeling experience, like passages of a natural labyrinth.
A natural sanctuary to multiple endangered species. The only location in the world that is home to the elusive and critically endangered three-toed pygmy sloth. With luck we'll see one swimming in the clear waters of the mangroves in this tropical island oasis.
Within the crystalline waters of the nooks and crannies surrounding the almost impenetrable jungle coving the island you'll explore a perfect incubator and hatchery for innumerable fish and shellfish including shrimp, lobster, and several species of crab.
Reaching this natural sanctuary is typically very challenging and a three-day trip if coming from Panama City. But only a bit over one hour travel by our luxury seaplanes.
AN ANCIENT LAND
Formed 12 million years ago, this small (4.3 km2) isolated Caribbean island is located 17 km from the coastline and has no permanent inhabitants.
A NATURALISTS PARADISE
The island has 100 hectares of coral reef with 55 coral species. On the small island are many thousand species of wildlife. Two mammal subspecies are recognized as occurring only on the island: the pygmy sloth and a species of fruit bat. Together with the worm salamander these three are considered to be critically endangered species. The hummingbird Amazilia handleyi is also native and unique to this tiny enclave. Green sea turtles, hawksbill sea turtles, and leatherback sea turtles come to Escudo to lay eggs.
ANCIENT RUMORS
Ancient local rumors have it that in the 1400's the suquias (sorcerer-kings of old) warriors would banish the souls of enemies killed in battlefields of the region to this far distant isle that appeared and disappeared on the horizon like a monstrous hallucination. And that the sounds of those souls can still be heard is isolated inlets as you explore.
YOUR LUXURY DAY TRIP PACKAGE INCLUDES
CUSTOMIZE YOUR DAY WITH THESE ALTERNATIVES
THE SEAPLANE EXPERIENCE
We meet at the Mapiex VIP hanger about 6:30 for our pre-flight briefing and to meet your guide for the day. We take off from Albrook Airport in our Cessna Caravan  EX amphibious seaplane for the island of Escudo de Veraguas.
Enjoy the jungle and ocean views as every passenger has a large window
Depending on the sea conditions that day, we either land directly at the island where you are met by a panga for your day excursion or alternatively land in the calm river waters at the indigenous community of Río Caña and you transfer to a panga for the 10 mile trip to the island of Escudo de Veraguas.
We depart by your seaplane mid-afternoon for Panama City.
YOUR ESCUDO ISLAND EXPERIENCE
You are hosted through the excursion by a bilingual interpretive naturalist guide to maximize your experience.
During your boat tour and snorkeling trip we provide a nice beach lunch as well as juice, water and snacks.
For health reasons we are unable to provide snorkeling equipment so please arrange to bring your own if you want to snorkel. Alternatively let us know ahead and we can arrange a more immersive nature experience, some fly fishing or other activities with your guide.
early afternoon your panga returns you to the Ngöbe-Buglé community of Río Caña where your seaplane has been anchored. You'll have a short tour of the community and meet some of the children and adults that reside there.
FOCUS ON NATURE
Some groups may be more interested in an immersive experience with a specialized naturalist guide or scientist to focus their visit on the unique ecosystem and wildlife of Escudo de Veraguas. We can coordinate your visit with the support of guides or scientists that have the knowledge and local experience of interest to you in order to assure your visit is exceptional.
Frequently Asked Questions
What should I bring with me?
We suggest sunscreen, a hat and of course sunglasses. A long sleeve shirt for sun protection. Add a towel and you're all set. We'll usually have some ziplock bags for your phone and camera. If you want to snorkel please bring your own equipment unless you make specail arrrangements with us well in advance.
What do you provide?
We'll have plenty of water and other refreshments. Snacks and a great light  lunch.
What if it rains?
If we get some rain showers typically they are not for too long. Always best to have a raincoat in your day bag.
What if there is an emergency?
Although you are remote, you are never isolated. We always have a means of  communications in case of emergencies.
Are there food options?
Before your excursion we'll contact you for any special dietary requirements or allergies.
I have a lot more questions, how can I reach you to talk?
Send me your contact information HERE and I'll get back to as soon as I am able by whatever means or technology you tell me you'd like to use. We really like doing Zoom calls, as yes there is a real person here. For Spanish I have someone to help me.
Why Fly With Elevair Tours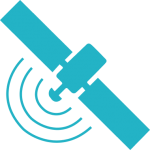 Remote but Never Isolated
As you fly with us you may be remote, but are never isolated. All our aircraft have real-time GPS satellite tracking systems and satellite telephones. Track your seaplane location in our mobile phone app.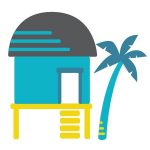 Our tourism activities and your participation are designed to provide a net benefit for the social, economic, natural and cultural environments we visit with you. And for future generations of visitors.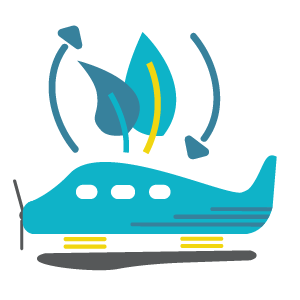 Carbon Neutral Operations
We offset the CO2 emissions from your flights with us with an equal amount of carbon capture projects in Panama communities we visit, empowering them for sustainable forestry and tourism.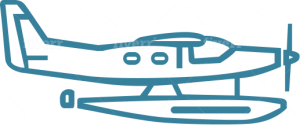 Latest Generation Seaplanes
You'll relax in the comfort of our modern turbo-prop amphibious seaplanes. We get you to your remote destination safely, quickly and comfortably. Executive aircraft interiors with seating for up to eight passengers and ample luggage capacity.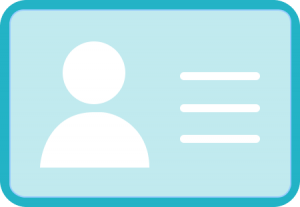 Experienced Seaplane Pilots
Our pilots have flown in some of the most rugged areas of the world and gained valuable experience to assure you have the safest journey possible. Competent, professional and always aware of the comfort and safety of your flight.